Retour à une numérotation normale. Finalement une fois de plus cette crainte du chiffre "13" n'était que pure superstition. Heureusement que personne n'y croit. C'est parti pour le numéro 14 !
// Marketing et Campagnes
Volkswagen USA
You Tweet. We donate. Use #VWSharkWeek and we'll give $2 to @Surfrider for ocean protection up to $50K. pic.twitter.com/XVdlVrPpOX

— Volkswagen USA (@VW) August 7, 2013
Durex
Hilarious Durex Ad Shows Why You Don't Want To Have Kids http://t.co/o45BbKyjvr

— SimplyZesty (@SimplyZesty) August 7, 2013
Porsche
Porsche engage ses fans #Facebook en leur dédiant un modèle http://t.co/CwcyZFFsvq

— Anthony Rochand (@AnthonyRochand) August 7, 2013
Ikea
Nice play in IKEA's new Augmented Reality app using Fight Club as a backdrop #imback http://t.co/a1WV41PChh

— Jonathan Astor (@ambientallstar) August 7, 2013
Scrabble
Une pub totalement déjantée pour Scrabble ! http://t.co/nCizpX7PcU

— Maxime Delmas (@maximedelmas) August 7, 2013
Justin Bridou champion de l'achat média
Vous vous souvenez de la campagne pour Justin Bridou dont je vous avais parlé dans Retour de Plage #6 ? Le spot passe en ce moment en TV. Alors je ne sais pas si Justin Bridou est réellement ou pas le père des réseaux sociaux – comme le clame le film publicitaire en question – en revanche le papy au béret sait faire de l'achat média dans Facebook :)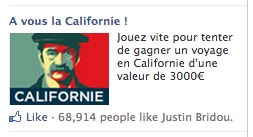 Vous me direz aussi : pas de quoi fouetter un chat et c'est même plutôt conseillé. Mais vu le claim ça fait tout de même sourire :)
// Sochol Media
Facebook Edgerank : Mort ou Pas Mort ?
Le Facebook Edgerank est mort selon les uns, pas mort mais modifié selon les autres. Au moins soyez au courant pour ne pas passer pour un "has been" à la rentrée quand vous parlerez de Edgerank à vos clients ;)
Le Facebook Edgerank est donc mort selon VentureBeat, qui cite une source provenant de Facebook.
En revanche selon l'app Edgerank Checker, il n'est pas mort et on peut continuer à en parler sous ce nom. Ceci dit, ça vaut mieux pour eux sinon ils devraient changer le nom de leur boite et de leur outil… Mais au fait, cet outil reste-t'il encore pertinent ? Hmmm…
YouTube / geekweek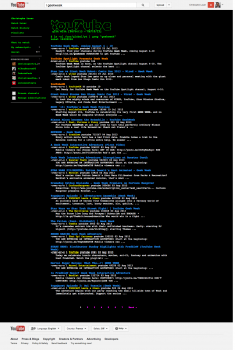 C'est la "geek week" sur YouTube. Tapez "/ geekweek" dans la barre de recherche et le site basculera vers une interface utilisateur en mode Ascii qui devrait faire sourire le geek qui est en vous ;)
Yahoo! et son changement de logo
Yahoo! : stratégie autour d'un changement de logo intelligent http://t.co/03eY0oYJB5

— Julie Bessonie (@juliebe_sunny) August 7, 2013
Yahoo Will Update Its Logo! http://t.co/Cj9Z4mdkoJ by @catherineshu

— TechCrunch (@TechCrunch) August 7, 2013
En fait, OSeF non ?
// Vu ailleurs sur le Web
Kinect dans votre baignoire
Kinect turns your bathtub into a giant liquid touchscreen http://t.co/MwyRLg3A9j

— Everything Microsoft (@EverythingMS) August 7, 2013
Vidcon 2013
Vidcon 2013: What this year says about what's happening on YouTube http://t.co/jzea9dJ9GV

— Marie Mustel (@Milimelo) August 7, 2013
// Daily WTF!?
Mais pourquoi donc est-ce qu'on incite les cerf à traverser les autoroutes ? Hein ? Bonne question ! :)
C'était la "Minute Blonde"… :)
Voilà. C'est tout pour aujourd'hui. Rendez-vous demain, et si vous le souhaitez vous toujours pouvez relire les billets précédents.
Vous voulez recevoir "Retour de Plage" tous les jours directement dans votre boite mail ? Il suffit de vous inscrire ici.