[Lire la version Française de ce billet]
I think that I have read almost all that was available to read about Pinterest during the last weeks, trying to understand where all this buzz came from. And surprisingly, here's what I found…
The online service is currently at the top of it's hype, and we can hardly keep count of the articles, posts and presentations about Pinterest that keep blooming here and there.
I suppose that you must have seen those articles highlighting the exponential explosion in the traffic and users of Pinterest in the US, and by the way these numbers were confirmed by comScore, though this trend doesn't seem to have reached the brave old Europe yet.
[Disclaimer: This text is not a machine translation. I'm not an English native guy, so please pardon me if if's odd sometimes. But if you can read French, you'll probably prefer to read the French version here]
Pinterest for Businesses. Oh, really?
But it's really when I saw a series of presentations about "Pinterest for businesses" that I really started to wonder and to scratch my head.
If you haven't seen those presentations, I suggest that you have a look. The first one is from Emmanuel Vivier (in French), there is another one also in French from Gregory Pouy and finally there's one in English published by the guys from the "6S Marketing" agency..
Just a fad?
My first intuitive reaction, and I guess I wasn't the only one (article in French, sorry), was to consider that all this buzz about Pinterest would be just another fad, after the previous episodes with companies like Quora, Empire Avenue, etc. and that the service would probably be forgotten after 3 or 6 months.
To keep it short, and not to dive too much into the details, here are some of the reasons why I still doubt that there could be clear business opportunities for business in Pinterest in the current situation:
– Please remind me which need the service is supposed to address? OK, I know that the same could have been said about twitter like four years ago
– None of it's feature are not already offered by other existing services – and sometimes well established ones
– From "pin" to "repin", the original links to the brands sites or commerce sites are lost, and bring no value to businesses
– No possibility to insert Google Analytics markers in Pinterest, which is not the case in tumblr
– Very simple, or simplistic text formatting, especially for the text below the pictures which is just plain text with no formatting possibilities
– The user interface is English only as of today (please remember that I work mostly for French clients)
– It seems to be the latest Silicon Valley's pet or toy, and "we" will probably quickly move on to something else
– etc. etc. and I could mention more of those
Who are all those users, really?
And so, I've spent some time to go beyond the raw numbers and the cool inforgraphics trying to understand what makes that some many people seem to spend so much time on a service in which I see almost no value at first feel. One first element that is widely mentioned and repeated is that the audience of PInterest is in it's vast majority made of women. as you can see in this infographic published on SimplyZesty.
And then, I had the idea to peek and poke into Google Correlate, and here is what I found. It's not rocket science, it's worth what it is – and we all know from correlated.org how some correlations can be awkward and funny – but it's a point of view that I haven't seen anywhere else and I think it's interesting.
This is it: the audience for Pinterest looks very different from the other startups, if you trust the data from Google Correlate. Google Correlate sketches a picture of an audience that spans in a region between the Southern and Midwest region of the US: Arkansas, Oklahoma, Mississippi, Tennessee, Alabama, and add the Utah to the list.
This is interesting since I haven't been able to find a similar pattern for any of the recently buzz-worthy startups. Most of those have audiences that are located – according to Google Correlate – in the West coast and East coast, but much lower in the states from the Southern and Midwest regions. This is very unique to Pinterest. Just have a look by yourself:
Google Correlate about Pinterest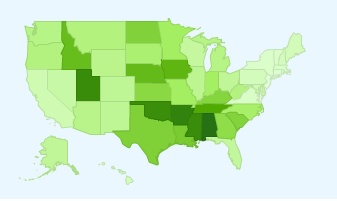 You can check by yourself the graphics below from Google Correlate on the following search terms: Quora, Instagram, Storify, Startup and TechCrunch.
Hint: Click on the graphics to visit the Google Correlate result page and explore the results and correlations by yourself. Scroll down the page to see the graphics with the US states.
Quora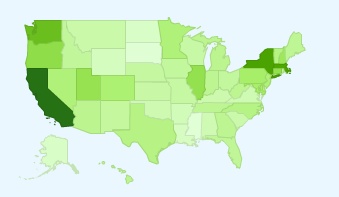 Instagram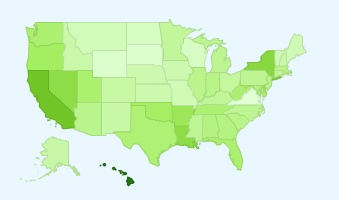 Storify
TechCrunch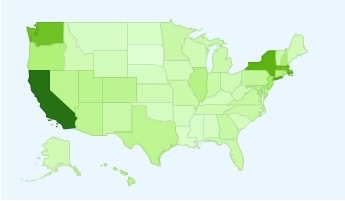 What Google Correlate tells us about Pinterest
Here's one other interesting aspect of the story that Google Correlate tells us: there are interesting correlations with other search terms that are quite meaningful.. The service lists correlations with the following terms:
– nursery ideas
– devotionals
– valentine gift ideas
– boy birthday party
– reasons to divorce (sic!?)
Since I hate to waste an occasion to make a (bad) joke, let me just say this: Guys, given the strong correlation between "Pinterest" and "reasons to divorce", if your wife get very passionate about Pinterest I would suggest that you do something and take care of the situation ;)
Also, you can give a try to the following terms and check the correlations: "mortgage", "refinance", "debt", "unemployment", "homework", "housekeeping". Do you begin to see the pattern?
Final word
My personal conclusion, that I share with you here, it that the buzz about Pinterest wasn't probably started by an article from TechCrunch or a post from Robert Scoble. I think that Pinterest had found it's audience. Or rather I'd should say it the other way roud: the audience has found the service that fullfils one of it's needs and that it has adopted, beyond all mode effects from the usual early adopters and experts from the Silicon Valley.
Hence, I'm less convinced that this service will follow the same schema as Quora, Empire Avenue or the likes and be forgotten in 3 or 6 months from now. It's now quite clear to me that the simplicity and the clarity in the user interface have resonated to an audience for whom a simple tumblr was already overkill and too complicated.
Though, I keep thinking that it's still way too early to imagine any effective use case for a brand in France or in Europe. Not all brands are equal in Pinterest anyway: It seems to make sense for businesses like Etsy or for brand that are advertising in Womens magazines, or brand like Whole Foods Market, but I'm much more skeptical about Easyjet or tech brands, as explained in this TechCrunch article.
To be continued…