Non il n'y aura pas de Retour de Plage #13. A la place aujourd'hui vous aurez droit au numéro 0x0D. Voilà. Puisque tout le monde est un peu geek ça ne devrait déranger personne :)
// Headline
Chipotle c'est du chiqué ! Difficile à digérer. Encore plus que leur bouffe.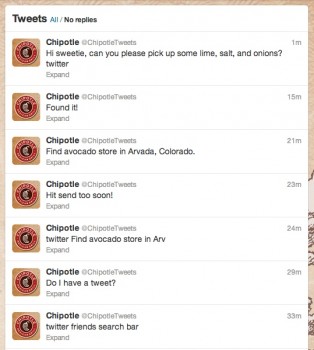 Je vous avais parlé dans le Retour de Plage #11 de cette mésaventure qui était visiblement arrivée au CM de la chaine de restauration Chipotle aux US ? Et bien figurez vous que tout ceci n'a jamais existé : cette série de Tweet Fails était un stunt organisé et monté de toute pièces dans le but de… générer des retweets et attirer des nouveaux followers. Ben voyons !
Boo Chipotle, you're so lame it's pathetic :( 
// Marketing et Campagnes
Volvo sur twitter
Volvo détourne la cover Twitter pour promouvoir son système de freinage http://t.co/3eYQg7fibg via @wcie

— Quentin Delamotte (@Q_Delamotte) August 6, 2013
Chanel
Chanel "where beauty begins": une autre vision de la Beauté http://t.co/EBL7u7URkW

— darkplanneur (@darkplanneur) August 6, 2013
Unilever
LMFM converts Unilever hours into charity minutes http://t.co/kYgb9K3NRn #advertising

— Campaign (@Campaignmag) August 6, 2013
McCann: Bucharest – Not Budapest
Une campagne de génie venue de nos amis de #McCannBucharest http://t.co/Qkk9Z2jF6H #BucharestNotBudapest

— McCann Paris (@McCann_Paris) August 6, 2013
Domino's Pizza
Domino's soutient les entrepreneurs avec un budget de 500$ en pizzas http://t.co/oFy5s599Mb #Marketing #Food

— Matthieu ETIENNE (@LLLLITL) August 6, 2013
Intel et Toshiba – Bis
Ça a l'air foufou le social film de Toshiba à base de zombies moustachus http://t.co/be1oOmMR3r

— Je suis (@victorbellec) August 6, 2013
Honda et Vine – Bis aussi
Honda Returns With Another Live Vine Day: http://t.co/1pC6UdubUx #HondaLove

— Social Media Insider (@SocialMedia411) August 6, 2013
Coca-cola
.@CocaCola creates personalized billboards that displays fans' names as they approach: http://t.co/GSJpx7plNr #Advertising

— PSFK (@PSFK) August 6, 2013
// Sochol Media
Facebook
Facebook details 'Story Bumping' and other News Feed algorithms to help users discover new sto… http://t.co/RYaGaZuh6k by @thekenyeung

— The Next Web (@TheNextWeb) August 6, 2013
Yahoo! et Rockmelt
#Yahoo accommode son Web social à la sauce Rockmelt – http://t.co/xUMCQWWJnC

— Anthony Rochand (@AnthonyRochand) August 6, 2013
Spammers et twitter
Highly organised spammers driving fake Twitter accounts http://t.co/65cy3ESJlu by Peter Laflin at Bloom Agency

— The Drum (@TheDrum) August 6, 2013
// Vu ailleurs sur le Web
Google City Expert
#Google lance son programme City Expert afin de concurrencer #Yelp | http://t.co/NBWIYSilSi via @lryo17

— Mikael Witwer (@MikaelWitwer) August 6, 2013
Firefox ajoute un bouton Share
Firefox Adds a Share Button to the Browsing Experience: Mozilla has redesigned Firefox to bri… http://t.co/LAHqjQ2Gcc via @SocialTimes

— Eric T. Tung (@EricTTung) August 6, 2013
// Daily WTF!?
Une pub Thaïlandaise pour des sous-vêtements. Vraiment WTF.
Une pub made in Thaïlande qui fait penser à la rubrique #EclatDeRire @nicolasbordas ;) http://t.co/ybF7AQT40a

— Thomas Mauriac (@ThMauriac) August 6, 2013
Voilà. C'est tout pour aujourd'hui. Rendez-vous demain, et si vous le souhaitez vous toujours pouvez relire les billets précédents.
Vous voulez recevoir "Retour de Plage" tous les jours directement dans votre boite mail ? Il suffit de vous inscrire ici.